Key:  Am
Form: Reel*
ABC:
X: 1
T:Sitting Bull Reel  (Am)
C:Andy De Jarlis
M:2/4
L:1/16
Z:abc by Bruce Osborne - 

email hidden; JavaScript is required


K:Am
ea2a abag|edeg a2e^f|gedc B2GA|BGAc B2A2|!
ea2a abag|edeg a2e^f|gedc B2AG|EAAG A4:|!
|:[A,2E2][A,E][A,E] [A,2E2]ED|EGAB c2BA|G2B2 D2GA|BGAc B2A2|!
[A,2E2][A,E][A,E] [A,2E2]ED|EGAB c2A2|efed c2Ac|BAGB A4:|!

MP3:
Download this MP3  If it plays, right-click on the page and "Save as". (Detailed instructions)
Sheet Music: Click image to enlarge. To download, right-click in enlarged image and "Save as...".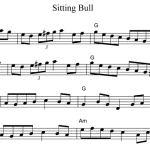 Youtube:
Source: Andy De Jarlis? John Arcand?
Other Tunes in Set: White Buffalo
Region: Métis (Manitoba & Saskatchewan +/-)
*Notes:  The ABC above shows the tune as a 2/4 march, but it appears to be the same tune.
VFO Fall15