Key: D
Form: Reel
ABC:
X: 1
T:Opera Reel, The
T:McDonagh's
R:reel
D:Matt Molloy & Sean Keane: Contentment is Wealth
D:De Danann: Ballroom
Z:id:hn-reel-302
M:C|
K:D
D2DE FDFA|DFAF EDB,E|D2DE FDFA|1 (3Bcd AF EFDE:|2 (3Bcd AF EFD2||
|:d2dc dAFA|DFAd egfe|d2dc dAFA|(3Bcd AF EFD2:|
a2fa g2eg|fedf edBd|a2af g2ge|fedf ecdf|
~a3f g2eg|fedf edBe|dfaf g2eg|fdec dcdB||
|:Adfd efge|fedf edBd|Adfd efge|1 fedf e2dB:|2 agec dBAF||

MP3: Recorded at the Northeast Heritage Music Camp, June, 2017.
Download this MP3  If it plays, right-click on the page and "Save as". (Detailed instructions)
Sheet Music: Click image to enlarge. To download, right-click in enlarged image and "Save as...".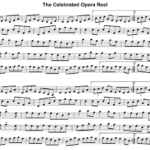 YouTube:
Source: Trad?
Other Tunes in Set:
Region: USA, New England
Notes: