Key: G
Form: Reel*
ABC: 
X: 23
T:Chicken Pecking
T:Earl Grey
M:4/4
L:1/4
Q:112
Z:Brian Martin <

email hidden; JavaScript is required

> Winterbourn Downs Morris  (rcvd Jan 2003)
K:G
G>AGD | EGDB | cAc/B/A/G/ | FAAB/A/ | G>AGD | EGDB | cede/f/ |1 gGG2 :|2 gGG |]
((3d/e/f/) | gGfG | eGdG | cA c/B/A/G/ | FAA((3d/e/f/) | gGfG | eGdG | ced e/f/ | gGG2 |]

MP3:
Download this MP3  If it plays, right-click on the page and "Save as". (Detailed instructions for different browsers).
Sheet Music: Click image to enlarge. To download, right-click in enlarged image and "Save as...".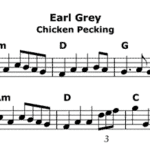 Sheet Music in PDF: Earl Grey
YouTube: (a very Scottish, ornamented strathspey rendition in A major)
Source (if known): Trad.
Other Tunes in Set:
Region: England, Northumberland
*Notes: More commonly played as a strathspey. See the YouTube video above.