Key: D
Form: Reel
ABC:

X: 1
T:Reel Mimeault
M:4/4
L:1/8
K:D
DEFG Addc | BBAF AddA | FDFG Acde | fdeg  fdd2 ::
dfed B2BA | Bcdf eAA2 | dfed B2BA | Bcde fdd2 :|

MP3:
Download this MP3  If it plays, right-click on the page and "Save as". (Detailed instructions)
Sheet Music: Click image to enlarge. To download, right-click in enlarged image and "Save as...".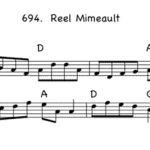 Link (Midi or Youtube):
Source (if known): Trad, from Yvon Mimeault's repertoire learned from his father.
Other Tunes in Set:
Region: Quebec
Notes:
VFO17-1