Key: G
Form: Waltz? Jig?*
ABC: Do you know a source of ABC notation for this tune?  Can you help?
MP3:
Download this MP3  If it plays, right-click on the page and "Save as". (Detailed instructions for different browsers).
Sheet Music: Click image to enlarge. To download, right-click in enlarged image and "Save as...".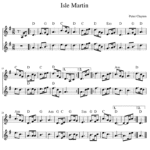 Sheet Music in PDF: Isle Martin
YouTube: 
Source (if known): Peter Clayton (copyright)
Other Tunes in Set:
Region: England*
*Notes: Peter writes, "It is in 3/8. I don't think it feels like a waltz but I don't think it's a jig either, though I hope it sounds Scottish.
"In the spring of 2018 we toured Scotland in our motorhome. Towards the end of the tour, we stayed at Ardmair Point on the West Coast of Scotland. We were confined to our motorhome for most of one day by torrential rain so I took the opportunity to write this tune as I looked across Loch Broom to the small uninhabited Isle Martin."