Key: Ddor
Form: English Country Dance Jig
ABC:
X: 1
T:Scotch Cap
S:Colin Hume's website,  colinhume.com  - chords can also be printed below the stave.
Q:3/8=120
M:6/8
L:1/8
F:http://john-chambers.us/~jc/music/abc/mirror/Colin_Hume/Scotch_Cap.abc	 2023-05-05 172851 UT
K:DDor
P:A
|:z | "Dm"D2D d2d | "Am"e2d c2A | "G"B2d B2A | B3 d2 :|
P:B
|: d/e/ | "Dm"f2A A2 d/e/ | "Aaug/C#"f2A A2 d/e/ | "F/C"f2A A2F | "Dm/B"A3 d3 |\
"Dm/A"B2B A2F | "G"G2G d2d | "Dm/F"B2B AF2 | "C"E3 "Dm"D2 :|

MP3: (Played by Susan Reid)
Download this MP3  If it plays, right-click on the page and "Save as". (Detailed instructions for different browsers).
Sheet Music: Click image to enlarge. To download, right-click in enlarged image and "Save as...".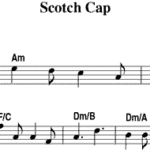 Sheet Music in PDF: Scotch_Cap
YouTube: 
Source: published by John Playford (1623-1686), "The English Dancing Master" (1651) 
Other Tunes in Set: 
Region: England (Possibly of earlier Scottish origin)
Notes: