Key: F
Form: Waltz
ABC: 
X: 1
T: Sunday River Waltz [F]
C: Pete Sutherland
R: waltz
Z: 2007 John Chambers <

email hidden; JavaScript is required

> 
B: The Waltz Book I
M: 3/4
L: 1/8
K: F
FG \
| "F"A2 c3 A | "C7"G4 FG | "F"A2 c3 A | "C7"G4 FG \
| "Dm"A2 f4 | "C"e3 f e2 | "Bb"d3 e dc | "F"A4 FG |
| "F"A2 c3 A | "Gm"G4 FG | "Am"A2 c4 | "Bb"d4 FG \
| "Dm"Ad cA GF | "C7"D3 C FG | "Bb(F)"F4 FG | "F"F4 :|
|: AB \
| "F"c3 d fg | a6 | "Gm"g4 ga | "C7"g4 fd \
| "F"c3 d fg | a4 (3aba | "Bb"g2 a2 f2 | "C7"g4 ag |
| "Dm"f3 e dc | "C7"A4 cf | "Bb"d3 c BA | "Bbm"G4 FG \
| "Dm"Ad cA GF | "Bb"D3 C "C7"AG | "Bb(F)"F3 E FG | "F"F4 :|
MP3:
Download this MP3  If it plays, right-click on the page and "Save as". (Detailed instructions for different browsers).
Sheet Music: Click image to enlarge. To download, right-click in enlarged image and "Save as...".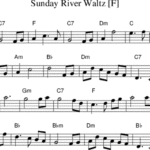 Sheet Music in PDF:
Sunday River
Sunday River (Guitar capo-3, D chords)
YouTube: 
Source: Pete Sutherland
Other Tunes in Set:
Region: New England USA
Notes: Pete says he doesn't remember composing this waltz but he's glad people like to play it.