Key: Dmix
Form: Jig
ABC:*
X: 1
%
T:King of the Pipers [1], The
R:jig
D:Altan: Harvest Storm
D:Declan Masterson: Tropical Trad
Z:id:hn-jig-219
Z:transcribed by 

email hidden; JavaScript is required


M:6/8
K:Dmix
|:A2F B2F|A2G FED|A2F B2F|GFG AFD|A2F B2F|A2G FED|GAB cAF|GFG AFD:|
|:dfa afd|ded cAG|FGA cAF|GFG AFD|dfa afa|geg fdf|e^cA DFA|GFG AFD:|
|:d2e d2A|ded dcA|d2e dcA|GFG AFD|d2e d2A|ded dcA|GAB cAF|GFG AFD:|
|:def def|def e^cA|def e^cA|~G3 AFD|def def|def e^cA|GAB =cAF|GFG AFD:|
|:Ddd Dcc|DBB AFD|Ddd Dcc|GFG AFD|Ddd Dcc|DBB AFD|GAB cAF|GFG AFD:|
P:Variations
|:A2D B2D|A2G FED|A2D B2D|GFG GFD|A2D B2D|A2G FED|GAB cAF|GFG AFD:|
|:dfa afd|d^cd e^cA|GAB =cAF|GFG AFD|dfa afa|geg fdA|GAB cAF|GFG AFD:|
|:d2e d2A|d2e dcA|d2e dcA|GFG AFD|d2e d2A|d2e dcA|GAB cAF|GFG AFD:|
|:def def|def e^cA|def def|~G3 AFD|def def|def e^cA|GAB =cAF|GFG AFD:|
|:Ddd Dcc|DBB DAA|Ddd Dcc|GFG AFD|Ddd Dcc|DBB ~A3|GAB cAF|GFG AFD:|

MP3:
Download this MP3  If it plays, right-click on the page and "Save as".  (Detailed instructions)
Sheet Music: Click image to enlarge. To download, right-click in enlarged image and "Save as...".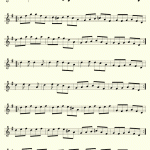 Youtube:

Source: Traditional
Other Tunes in Set:
Region: Ireland (Donegal?)
Notes:  A wonderful 5-part jig.  We play it AABBCCDDEE.
* This ABC is slightly different from our version but is as close as I could find.
fave