Key: D
Form: Jig
ABC:

F2F AFF|dFF AFF|G2G ABc|ded cAG|
FEF AFF|dFF AFF|GFG BAG|FDD D3:|
d2e fed|ecA ABc|dcd fed|faf gfe|
d2e fed|ecA BAF|GFG BAG|FDD D3:|

MP3:
Download this MP3  If it plays, right-click on the page and "Save as". Does not work in Internet Explorer. Use a different browser.)
Sheet Music: Click image to enlarge. To download, right-click in enlarged image and "Save as...".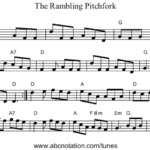 Link (Midi or Youtube):
Source (if known): Traditional?
Other Tunes in Set: Toss the Feathers
Region: England
Notes:
fave