Key: Dmix
Form: Jig
ABC:

|:A2G ADD|A2G Adc|A2G ADD|EFG EFG:|
|AdB c3|Add efg|AdB c2A|GEG AED|
AdB c3|Add efg|age dcA|GEG AED||
MP3: Please contribute a non-copyrighted sound file of this tune via the suggestion form.  Meanwhile, see the two YouTube video below.
Sheet Music: Click image to enlarge. To download, right-click in enlarged image and "Save as...".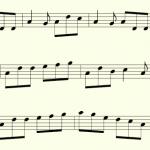 Link (Midi or Youtube):
Source (if known): Traditional
Other Tunes in Set:
Region: Ireland
Notes: (From Jakep, comment on The Session) "Caoimhin Mac Aoidh says a correct translation of the Irish title would be "Hag in the churn." This refers, he maintains, to the folk superstition that witches would inhabit a churn to steal butter. They could not abide this particular tune, however, so it would be played as a ward when the chore of churning butter was done."