Key: A
Form: Reel
ABC:
X: 1
T:Hommage à Edmond Parizeau
C:Marcel Messervier
Z:
S:NESI 2011
M:4/4
L:1/8
K:A
A ABcd | eAAe AAeA | AAeA f2ed | ceAB cAeA |
ceAc dedc | B3B BABc |1 B3e efed | c2B2 AcBA | E3 :|2
e2d2 c2B2 | Afed cdBc | A2c2 B2A2 |:
a4 f4 | d3A d2f2 | e3e efec | A2c2B2A2 | B2BB BABc |
e2d2 c2B2 |1 cBAc ecef | e2c2 B2A2 :|2 Afed cABc | A3 |]

MP3:
Download this MP3  If it plays, right-click on the page and "Save as". (Detailed instructions)
Sheet Music: Click image to enlarge. To download, right-click in enlarged image and "Save as...".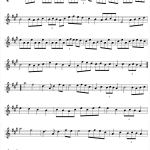 Youtube:
Source (if known): Marcel Messervier (?)*
Other Tunes in Set:
Region: Quebec
*Notes: "This hommage, included in Laurie Hart's book, Danse ce Soir, was arranged by Messervier but not written by him. Laurie claims that the tune was in Pariseau's repertoire as 'Reel du Commonwealth'." –From a post on TheSession.org.
fave