Key: E minor
Form:  Jig
ABC:
X: 1
T:Indian Point
R:Jig
C:Rick Mohr
F:http://home.attbi.com/~rick.mohr/
L:1/8
M:6/8
K:Em
"Em"B,EF G2A|BAG FED|"C"CEF G2A|BAG BAG|
"D"FED A,2D|FEF AGF|1"Em"EFG BAG|"Bm"F3 FED:|2"Em"GFE "Bm"FED|"Em"E3 E2|]
|:A|"Em"Bef gfe|"C"cef gfe|"D"dfg agf|"Em"gfe "Bm"fed|
"Em"Bef gfe|"C"ceg "Am"a2a|"Bm"bag fgf|"Em"e3 "D"e2:|

MP3: Do you play this tune? Please contribute a non-copyrighted sound file (iPhone recording or equivalent is fine). Contact me via the suggestion form. Thanks.
Link (Midi and Youtube): (The second tune on this video, starting at 2:05)

Sheet Music: Click image to enlarge. To download, right-click in enlarged image and "Save as...".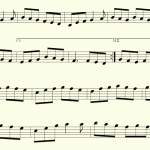 Source: Rick Mohr
Other Tunes in Set:
Region: USA? Any idea?
Notes: