Key: G
Form: Sønderhoning
ABC: If you know a source, please contribute ABC notation.
MP3:
Download this MP3  If it plays, right-click on the page and "Save as". (Detailed instructions for different browsers).
Sheet Music: Click image to enlarge. To download, right-click in enlarged image and "Save as...".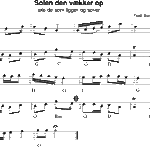 Sheet Music in PDF: solen-den-vækker-op
YouTube:  
Source (if known): Trad.
Region: Denmark
Notes:  Our Danish correspondent sends this: "The [Danish] text under the notes [see the PDF above]:
"The sun wakes up, all those who are still sleeping,
The farmer raises his lazy body, for now he has to go out and plow."
SR-sum19
skandi