Key: D*
Form: Jig/Slip jig
ABC:
X: 1
T:The Black Rogue
T:Paddy McNicolas
T:Paddy's Own
S:Robbie Hannan and Paddy Glackin on Whirlwind
D:Shanachie 79093, 1995
M:6/8
K:DMaj
d|cAA BGB|cAA AAd|cAA BGB|AFD DdB|cAA BGB|cAA AGF|\
~G3 BGB|1AFD DdB:|2AFD DAd||fgf ~g3|afd cAd|faf gfg|\
afd d(3def|agf gfe|fed e2d|cAA BGB|AFD DAd||\
fgf ~g3|afd cAd|~f3 ~g3|afd dfg|\
agf gfe|fed ~e2d|cAA BGG|ABc dcd||**
|
MP3: (Played by Susan Reid)
Download this MP3  If it plays, right-click on the page and "Save as". (Detailed instructions for different browsers).
Sheet Music: (? See Notes, below.) Click image to enlarge. To download, right-click in enlarged image and "Save as...".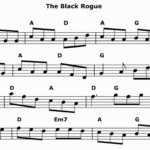 Source: Traditional
Other Tunes in Set: The Dandy and Lakeview Drive (per Jerry Holland)
Region: Ireland
*Notes: The ABC above, courtesy of The Session, is in Amix.  I chose this version from among the eight(!) settings they show because the melody is the closest to the way we play it.  But the version we play is in Dmix or just D major. The sheet music is in D.