Key: D (? See Notes, below.)
Form: Jig
ABC:
| cAA BGG | cAA ABd | cAA BAG | AFD D2 B|
cAA BGG | cAA AFD | G2 A (B/c/d)B |1 AFD D2 B :|2 AFD D3 ||
|: ~f3 ~g3 | afd cBA| ~f3 gfg | afd dfg |
agf gfe | fed e/f/ed | cBA BAG | AFD D3 :||
MP3: Do you play this tune? Please contribute a non-copyrighted sound file (iPhone recording or equivalent is fine).  Can you help?  Meanwhile, check out the YouTube link below.
Sheet Music: (? See Notes, below.) Click image to enlarge. To download, right-click in enlarged image and "Save as...".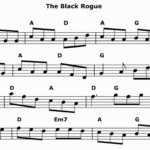 Midi: (? See Notes, below.) Black Rogue
Source (if known): Traditional
Other Tunes in Set: The Dandy and Lakeview Drive (per Jerry Holland)
Region: Ireland
Notes: The midi and ABC above, courtesy of The Session, are in Amix.  I chose this version from among the eight(!) settings they show because the melody is the closest to the way we play it.  But the version we play is in Dmix or just D major. The sheet music is in D.