Key: A (or G*)
Form: March?
ABC: 

X: 1
T:Ida Red
M:2/4
L:1/8
B:Kuntz - Ragged but Right
Z: Contributed 2016-03-09 15:35:38 by JIm Gaskins 

email hidden; JavaScript is required


F:http://rudy-rucker.mit.edu/~jc/music/abc/contrib/Tunes/IdaRed.abc 2019-04-10 131056 UT
K:A
c>c BB|A/B/A/F/ EF|AA/c/ B/A/F|EF AA/B/|cc/c/ BB|
A/B/A/F/ EE/F/|AA/c/ B/A/F|EF A>(c||
c/)e/e [ee][ee]|c/A/B AA|B/A/B/A/ c/A/B|E/E/F AA|
c/B/c/d/ ee|c/d/e AA|B/A/B/A/ cB|E/F/A A2||

MP3:
Download this MP3  If it plays, right-click on the page and "Save as". (Detailed instructions for different browsers).
Sheet Music: Click image to enlarge. To download, right-click in enlarged image and "Save as...".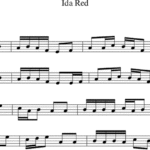 YouTube:  
Ida Red the song, by Bob Wills & The Texas Playboys, 1951:
Source (if known): Trad? Can you help?
Other Tunes in Set:
Region: USA
*Notes: Played in at least these two keys, especially to match singers' ranges.