Key:  G
Form: Jig
ABC:
X: 1
T:La Fée des dents
C:André Brunet
M:6/8
L:1/8
K:G
B2D- DGA | Bdc BAG | BcE- EFG | FAG FED |
B3 DGA | Bdc Bgf | egd- dcB | AGF G3 ::
e3- edB | ced cBc | dGB- BAG | Bdc BAG |
e2c efg | afd- dcB | ced cBA | AGF G3 :|

MP3: (played by David Kaynor, Susan Reid and friends)
Download this MP3  If it plays, right-click on the page and "Save as". (Detailed instructions)
Sheet Music: Click image to enlarge. To download, right-click in enlarged image and "Save as...".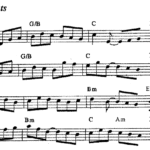 Sheet Music in PDF: Fee des Dents
Link (Midi or Youtube):

Source (if known): André Brunet
Other Tunes in Set:
Region: Quebec
Notes:
fave