Key: A
Form: Waltz
MP3:
Download this MP3  If it plays, right-click on the page and "Save as". (Detailed instructions)
ABC:
X: 266
T: Rosebud of Allenvale
C: J. Scott Skinner
M:3/4
R:waltz
L:1/8
Z:Alf Warnock - 

email hidden; JavaScript is required


K:A
e3/2d/2\
|"A"c3d c2| "E7"B3A B2| "A"A6| A2 B2 c2|\
"D"d3e f2| "A"e2 A2 c2| "Bm"B6| "E7"B4 ed|
"A"c3d e2| "A7"A2 B2 c2| "D"d4 e2| f4 a3/2f/2|\
"A"e2 A2 d2| "E7"c4 B2| "A"A6| A4 :|
c>d\
|"A7"e3f =g2| f4 e2| "D"d6| d4 e2|\
"B7"f3g a2| g4 f2| "E7"e6| e2 f2 g2|
"A"a2 e2 c2| "A7"A4 =G2| "D"F2 A2 d2| f4 a3/2f/2|\
"A"e2 A2 d2| "E7"c4 B2| "A"A6| A4:|

Sheet Music: Click image to enlarge. To download, right-click in enlarged image and "Save as...".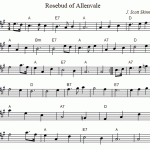 Youtube: Rosebud is the first tune on this recording of the late great Cape Breton Fiddler, Buddy MacMaster, but the rest is well worth hearing, a wonderful example of a classic Cape Breton set: Rosebud of Allenvale /Tom Dey / Miss Dale / Maggie Cameron / The Devil in the Kitchen / Margaree / St. Kilda Wedding / Elizabeth's Big Coat / Bridge of Bamore.
Source (if known): J Scott Skinner
Other Tunes in Set: Tom Dey
Region: Cape Breton
*Notes:  This tune is known by a variety of other names including (but not limited to) Rosebud of Avondale and Rosebud of Avonmore.
fave