Key: C
Form: Reel
ABC: Can you provide ABC notation for this tune? Please contribute.
MP3: (Played by the composer, Michael Burnyeat)
Download this MP3.  If it plays, right-click on the page and "Save as". (Detailed instructions for different browsers).
Sheet Music: Click image to enlarge. To download, right-click in enlarged image and "Save as...".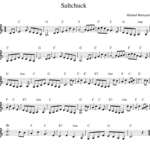 Sheet Music in PDF: Saltchuck
YouTube: 
Source: Michael Burnyeat
Other Tunes in Set:
Region: British Columbia, Canada
*Notes: Michael writes, "Saltchuck is a Chinook Jargon word from the Pacific Northwest, meaning 'Sea' or 'Salt water body'.  Fitting as a West Coast tune title, I thought.
"Chinook Jargon was a pidgin language developed between Natives and Europeans for trading purposes in BC (and Washington state too)."