Key: D
Form: Waltz
ABC: 
X: 1
T:Si Bheag Si Mhor
T:Sheebeg and Sheemore
R:Waltz
C:Turlough O'Carolan, 1691
O:Ireland
M:3/4
L:1/8
Q:1/4=100
K:D
de|"D"f2fed2|"D7"d2ded2|"G"B4A2|"D"F4A2|"G"BA Bc d2|"A7"e4de|"D"f4e2|"D7"d4f2|
"G"B4e2|"D"A4d2|"Bm"F4E2|"D"D4f2|"G"B4e2|"A7"A4dc|"D"d6-|"D"d4:|
|:de|"D"f2fed2|"D7"ed ef a2|"G"b4a2|"D"f2>e2d2|"G"e4a2|"D"f4ed|"Em7"d4B2|"A7"B4A2|
"D"F4E2|"D7"D4f2|"G"B4e2|"D"A2>f2a2|"Em7"ba gf ed|"A7"e4 dc|"G"d6-|"D"d4:|

MP3*: (Played by Art Edelstein and Tim Newcomb.)
Download this MP3  If it plays, right-click on the page and "Save as". (Detailed instructions for different browsers).
Sheet Music: Click image to enlarge. To download, right-click in enlarged image and "Save as...".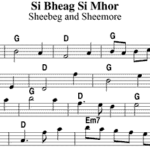 Sheet Music in PDF: Si_Bheag_Si_Mhor
YouTube: 
Source: Turlough Carolan (aka O'Carolan), 1691
Other Tunes in Set:
Region: Ireland
*Notes: The MP3 above is played AB although this tune is commonly plated AABB as shown in the sheet music.
According to Wikipedia, Sí Beag, Sí Mór translates as "Small Fairy Mound, Big Fairy Mound" from the word 'Sí' for 'fairy mound' in Irish Gaelic.