Key:  D
Form: Waltz
ABC: If you know a source, please contribute ABC notation.
MP3: (Very kindly contributed and played by the composer, April Verch)
Sheet Music: Click image to enlarge. To download, right-click in enlarged image and "Save as...".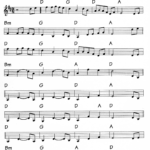 Sheet Music in PDF: riverboats gone
YouTube: 
Source: April Verch (copyright)
Other Tunes in Set:
Region: USA
Notes: This lovely waltz was composed by April Verch in honor of the late John Hartford.  Many thanks to April for permission to post it with her recording.
fave