Key: D
Form: Slip jig
ABC:
X: 1
T:Snowy Path, The
C:Mark Kelly
R:slip jig
D:Altan: Harvest Storm
Z:id:hn-slipjig-24
M:9/8
K:D
F2A B2F A2F|G2B d2e dBG|F2A B2F A2F|1 E2D E2F GFE:|2 E2D E2F GAB||
|:c3 c2e d2c|B2G B2c d2e|1 f3 f2e d2B|A2G F2G A2B:|2 d2A B2F A2F|E2D E2F GFE||

MP3:
Download this MP3  If it plays, right-click on the page and "Save as". (Detailed instructions)
Sheet Music: Click image to enlarge. To download, right-click in enlarged image and "Save as...".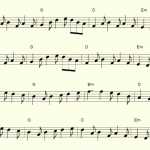 Youtube:
Source: Mark Kelly of Altan
Other Tunes in Set: The Butterfly
Region: Scotland
Notes:
fave