Key: G*
Form: March
ABC:
X: 1
T:La Marche Au Camp
M:6/8
R:Jig
K:G
G| "G"Bcd B2G | DGA BGA | "G" Bcd B2G | DGF "Em"E3 |
"Em"EFG "C"DGF | EFG "G"BGG | | DGA "G"BAB  |1"G"dBG "D"A2:|2 "D"cAF "G"G3||
|:"D"A2A ABc | "D"A2A ABc |"G" B2B BcB | "G"dBG GAB |
"D"A2A ABc | "D"A2A ABc | "G"Bcd gdB | "D"ABA "G"G3:||

MP3:
Download this MP3  If it plays, right-click on the page and "Save as". (Detailed instructions)
Sheet Music: Click image to enlarge. To download, right-click in enlarged image and "Save as...".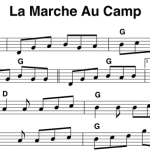 Youtube:
Source: Jean-Paul Loyer
Other Tunes in Set:
Region: Quebec
*Notes: Thanks to Phil Schappert who writes, via the suggestion form: "I found Marche au Camp, [in] "Danse ce Soir: fiddle and accordion music of Quebec" by Laurie Hart & Greg Sandell…(tune #114, pp. 157)".  He notes that it is given there in the key of F.