Key: E/A
Form: Syncopated Two-Step
ABC: If you know a source, please contribute ABC notation.
MP3*:
Download this MP3  If it plays, right-click on the page and "Save as". (Detailed instructions for different browsers).
Sheet Music*: Click image to enlarge. To download, right-click in enlarged image and "Save as...".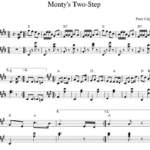 Sheet Music in PDF: Montys_2_step
YouTube:  If you know a source for this one, please contribute a link to a midi or YouTube on the Web for this tune.
Source (if known): Peter Clayton* (copyright)
Other Tunes in Set:
Region: England
*Notes: The composer writes, "The last two bars of the tune reminded me of the last two bars of something else. I kept trying to change them but the tune kept leading me back. In the end I gave in and called it 'Monty's Two-Step' as a nod to the other tune/song. Can you guess what the other song was?"  Email me with your guesses and I'll forward them to Mr. Clayton, -AJ.