Key: Edor
Form: Reel
ABC:
X: 1
T: The Glen Of Aherlow
R: reel
M: 4/4
L: 1/8
K: Edor
|:B2AF B2AF|EDEF EDB,D|B2AF B2AF|DFBA FE~E2|
B2AF BFAF|EDEF EDB,A,|B,E~E2 DEFA|dBAF FE~E:|
|:eB~B2 egfe|d2fd Adfd|eB~B2 egfe|dBAF FE~E2|
eB~B2 egfe|d2fd Adfd|B~B2d efge|dBAF FE~E2:|

MP3: Recorded at the Northeast Heritage Music Camp, June, 2017.
Download this MP3  If it plays, right-click on the page and "Save as". (Detailed instructions)
Sheet Music: Click image to enlarge. To download, right-click in enlarged image and "Save as...".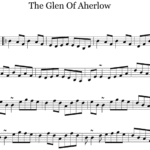 YouTube:
Source: Seán Ryan
Other Tunes in Set:
Region: Ireland
Notes: