Key: Edor
Form: Slip jig
ABC:
X:1
T:Fig for a kiss
M:9/8
L:1/8
S:James Kelly workshop
Z:Foty, Caroline C. <

email hidden; JavaScript is required

>
N:The c near the end may be c# instead.
R:slipjig
K:EDor
F |  "Em"G2B E2B BAG | "D"FGA D2A "(B7)"AGF | "Em"G2B E2B BAG | "G"BdB "D"AGF "Em"E2  :|
f |  "Em"g2e g2e edB | "D"f2d dcd "(B7)"fga | "Em"g2e g2e edB | "D"dBA ABd "Em"e2 ||
f |  "Em"g2e g2e edB | "D"f2d dcd "(B7)"fga | "Em"gfe "D"fed "C"ed=c | "G"BdB "D"AGF "Em"E2 |]
MP3: (including an alternate B part)
Download this MP3  If it plays, right-click on the page and "Save as". (Detailed instructions for different browsers).
Sheet Music: Click image to enlarge. To download, right-click in enlarged image and "Save as...".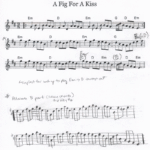 Sheet Music in PDF: A Fig for a Kiss
YouTube: 
Source: Trad.
Other Tunes in Set:
Region: Ireland? Can you help?
Notes: