Key: G
Form: Reel
ABC:  
X: 1
T:Jack Broke da Prison Door
R:Reel
O:Shetland
M:4/4
K:G
G2BG BdBG|cBAB dBAB|G2BG BdBG|ABAG E2D2::
g2gd edBG|g2gd eaaf|g2gd edBG|ABAG E2D2:|

MP3:
Download this MP3  If it plays, right-click on the page and "Save as".  (Detailed instructions)
Sheet Music: Click image to enlarge. To download, right-click in enlarged image and "Save as...".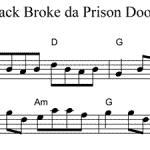 Youtube:
(The first in a set of four Shetland reels played by the Vermont Fiddle Orchestra):
Source (if known): Trad. (or Jack Goudie?*)
Other Tunes in Set:
Bonny Isle of Whalsay
Sleep Soond ida Mornin
Faroe Rum
Region: Shetland
*Notes:  From TheSession.org:
From the book: "Hand me doon da fiddle" (Tom Anderson, Pam Swing).

Dis een wis made up be an auld fiddler named Jack Goudie frae da Ness. Some said dat he'd hed a dunt on his head whin he wis young dat gave him queer turns. He wis a very good fiddler an made up loks o' tuns. Wan night in Lerook wi a dram in him he got a queer turn an the poliss lockit him up ida auld prison. He waited til dey wir sleepin an dan he brook doon da prison door an made fir hame as fast as he could. Da poliss wir awaur it he wis gaen, bit tocht it better to let be fir let be, so dey didna geng efter him. Whin Jack got hame he took his fiddle an made up dis tun an caaed him, "Jack Broke da Prison Door". If da listens to da first twartre notes du can hear hit sayin dat.
VFO16-2