Key: G
Form: Reel
ABC:
X: 1
T:Swinging on a gate
M:4/4
K:G
Bd|gedB G2AB|cABG AGEG|DGBd g2fg|eaag fdef|gedB G2AB|cABG AGEG|cABG AGEG
|DGGF
G2:|
Bd|g3a bgaf|gfed B2AG|EAAB cBAG|EAAB cdef|g3a bgaf|gfed B2AB|cABG AGEG|D
GGF
G2:|

MP3:
Download this MP3  If it plays, right-click on the page and "Save as". (Detailed instructions)
Sheet Music: Click image to enlarge. To download, right-click in enlarged image and "Save as...".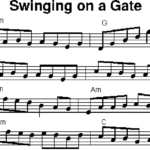 Youtube:

Source: Traditional
Other Tunes in Set:
Region: Ireland? England? Scotland? USA? –pretty international 🙂  Comment?
Notes:
fave