Key:  A
Form: Reel
First notes in ABC: If you know a source, please contribute ABC notation using the suggestion form.
MP3: (Played by David Kaynor)
Download this MP3  If it plays, right-click on the page and "Save as". (Detailed instructions)
Sheet Music: Click image to enlarge. To download, right-click in enlarged image and "Save as...".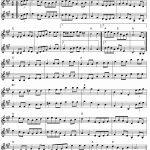 Link (Midi or Youtube):
Note: This tune is the last of a medley of several in this "video". It starts at approximately 4:30 on the progress bar.
Source (if known): Traditional? Vernon Derrick?
Other Tunes in Set: Peacock Rag
Region: USA (Southern)
Notes: David Kaynor writes of the YouTube above, "…a recording of Sue Sternberg and (Vermont native) Sam Bartlett playing it as the final tune of the "Downeast Medley" track of their _Belting You With Reels_ recording. Sue and Sam don't list the titles of the tunes in the medley but I believe the order is Little Black Mustache, Belledune Quickstep, Bowing the Strings, Woodchopper's Reel, and this tune."
VFO Fall15