Key: D
Form: Reel
ABC: 
X: 1
T:Willafjord #1
C:Joe Buchanan's Scottish Tome - Page 154.1
I:154 1
Z:Carl Allison
R:Reel
L:1/8
M:4/4
K:D
|: B2 | "D"A2 FA- "D/F#"ADFA | "G"B2 GB- BDGB | "D"A2 FA- ADEG | "Em"EFGA "A7"GFED |
"D"A2 FA- "D/F#"ADFA | "G"B2 GB- BDGB | "A7"ABcd efge | "D"f2 "G"d2 "D"d2 :|
|: e2 | "D"f2 df- ffdf | "Em"geaf gfeg | "D"f2 df- fGdf | "A7"e2 ce- eAce |
"D"f2 df- ffdf | "Em"geaf gfed | "A"ABcd efge | "D"f2 d2 d2 :|
MP3:
Download this MP3  If it plays, right-click on the page and "Save as". (Detailed instructions for different browsers).
Sheet Music: Click image to enlarge. To download, right-click in enlarged image and "Save as...".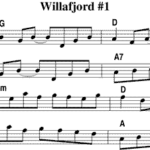 Sheet Music in PDF: Willafjord
YouTube: 
Source: Trad.*
Other Tunes in Set:
Spootiskerry
Sleep Soond Ida Mornin

Region: Greenland (via Shetland)
*Notes: This tune is thought to have been brought back to Shetland in the days of Greenland whaling by Shetland fiddlers who signed on as crew on whaling ships.  According to the book In Search of Willafjord by Maurice Henderson (available from the Shetland Times Bookshop) there is no place in Greenland named Willafjord but a fjord on Greenland's western coast, often visited by whaling ships in the eighteenth and nineteenth centuries, now called Amerdloq fjord is the most likely candidate.  A document written by a Danish priest in the 1760s referred to it as Veyde Fiord in old Danish. (The V would likely have been pronounced like a W in English.) Veyde seems likely to have been derived from the even earlier Dutch name, Weide, probably referring to a meadow or lea.  At any rate it's likely that, passing through various translations and pronunciations, Veyde Fiord became the name of a popular Shetland fiddle tune, Willafjord.  The town of Sisimiut is located at the fjord's mouth.