Key: Edor
Form: Reel
ABC:
X: 1
T: The Caribou
R: reel
M: 4/4
L: 1/8
K: Edor
|:B2ED EFGA|B2ED EFGE|D2FD DADD|BDDA DDFD|
E2ED EFGA|Bdef g2fg|afge efec|1 dBAF EdcA:|2 dBAF E4||
|:Be2B efed|Bdef edBd|Ad2A d3e|fedf edBA|
Be2B efed|Bdef g2fg|afge efec|dBAF E4:|

MP3: Do you or your friends play this tune? Please contribute a non-copyrighted recording (smartphone jam  recording or equivalent is fine). Meanwhile, check out the YouTube below.
Download this MP3  If it plays, right-click on the page and "Save as". (Detailed instructions for different browsers).
Sheet Music: Click image to enlarge. To download, right-click in enlarged image and "Save as...".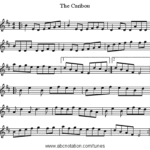 Sheet Music in PDF: Caribou Reel
YouTube: 
Source: Andy Dejarlis
Other Tunes in Set: 
Region: Métis, Manitoba, Canada
Notes: