Key: Em
Form: Reel
ABC*:'
X: 1
T: THE DANCING BEAR
C: Bob McQuillen  2 Feb 78
B: Bob's Note Book 3 #21
N: I have a wonderful friend who is a Bear named Oso and this tune is for him because
N: he likes it. Barry Nielson likes it, too, and so its for him, too, with love from Mac.
Z: 2000 John Chambers
R: reel
M: C
L: 1/8
K: Em
|: "Em"EFGF EFGF | EFGA G2E2 |  "A"EFGF EFGF |     EFGA G2E2 |
|  "Em"EFGF EFGF | EFGA B2e2 | "B7"B2Bc BAGF | "Em"G2E2 E4  :|
|: "Em"e2ef gfef | gfe2 e4   |  "A"e2ef gfef |     gfe2 e4   |
|  "Em"e2ef gfef | gfe2 e2dc | "B7"BABc BcBA | "Em"GFE2 E4  :|

MP3: (Played slowly for learning)
Download this MP3  If it plays, right-click on the page and "Save as". (Detailed instructions)
Sheet Music*: Click image to enlarge. To download, right-click in enlarged image and "Save as...".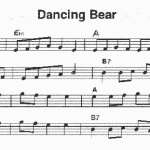 Link (Midi or Youtube):

Source (if known): Bob McQuillen
Other Tunes in Set:
Region: USA, New England
*Notes: The sheet music above shows guitar chords per David Kaynor (who knew Bob McQuillen), a very nice arrangement but subtly different from the ABC and YouTube above. Played on solo fiddle, this tune seems a bit repetitive, but add the chords, especially the C chord at the beginning of the fourth line, and it becomes wonderful.
The story goes that Bob McQuillen wrote this tune for a rather clumsy dancer.  We like to play it three or four times, starting slowly and increasing the tempo with each repetition.
fave