Key: D
Form: Reel
ABC: (Played A2.BCD.ABCD)



P:A




FG|"D"A2AB AGFE |DEFD "A"~E2 E2 |AE E2 "E"BE E2 |edcB "A"AGFG |




"D"A2AB AGFE |DEFD "A"~E2 E2 |AE E2 "E"BE E2 | edcB "A"e2  ||




P:B




A2| "Dm"dA A2 dA A2 |"A"cded ~c2 c2 |"Gm"dcAG AGAc |"A"AGAc A2 A2 |




"Dm"dA A2 dA A2 |"A"cded ~c2 c2 |"Gm"dcAG "A"A2 AB |AGFE "D"D2 (3(DEF) |




P:C




"G"GFGB "A"cAce |"D"fdAF "G"~G3 F |"Em"EFGA B2 Be|"E7"edcB "A"AGFG  |




P:D




"D"A2AB AGFE |DEFD "A"~E2 E2 |AE E2 "E"BE E2 |edcB "A"AGFG |




"D"A2AB AGFE |DEFD "A"~E2 E2 |"D"FAdA "G"BdcB| "A"AGFE "D"D2 |]
MP3: (Piano, with chords)
Download this MP3  If it plays, click the download icon or right-click on the page and "Save as". (Detailed instructions)
MP3: (Melody played on fiddle by Laurence Beaudry) 
Download this MP3  If it plays, click the download icon or right-click on the page and "Save as". (Detailed instructions)
Sheet Music: Click image to enlarge. To download, right-click in enlarged image and "Save as...".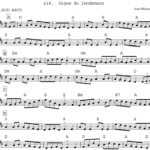 YouTube:  If you know a source for this one, please contribute a link to a midi or YouTube on the Web for this tune.
Source (if known): Jean Rhéaume (copyright)
Other Tunes in Set:
Region: Québec
Notes: Jean writes about the title: "when we talk about « du lendemain », we mean the day after we drink too much, so we are unstable (reflected in the B part)".