Key:  D
Form: Reel
ABC: 
P:A
"D"Ad B>B | Ad B>B | Ad fe |"A7"Bc ed | 
"D"Ad B>B | Ad B>B | Ad fe |"A7"Bc "D"d2 :|
P:B
|: "D"Ad d/d/d/d/ | "A"dc e/f/e/d/ | Ae e/e/e/e/ | "D"ed f/g/f/d/ | 
"D"fa "Em"gf | "ED/F#"ed "G"B(3B/c/B/ | "D/A"Ad"G/B"fe | "A/C#"Bc"D"d2 :|]
MP3: (Played by Susan Reid)
Download this MP3  If it plays, right-click on the page and "Save as". (Detailed instructions)
Sheet Music: Click image to enlarge. To download, right-click in enlarged image and "Save as...".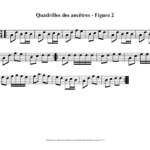 Sheet Music in PDF: Front de bouf?
Link (Midi or Youtube):
Source (if known): Trad.
Other Tunes in Set:
Region: Québec
*Notes: "When we say that someone have a « front de boeuf » , its generally means « very cheeky » It has the sense effrontery, insolent, unashamed, barefaced, brazen… but also cheeky, perky. It's a pure Québécois expression." –Jean Rhéaume.
Quadrilles des Ancêtres seems to be the name this tune is best known by.

SR-sum19