Key: A
Form: Sønderhoning
ABC: Can you provide ABC notation for this tune? Please contribute.
MP3: (Played slowly for learning)
Download this MP3.  If it plays, right-click on the page and "Save as". (Detailed instructions for different browsers).
Sheet Music: Click image to enlarge. To download, right-click in enlarged image and "Save as...".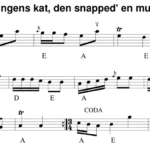 Sheet Music in PDF: Kaellingens-kat-Sonderhoning
YouTube: 
Source: Trad?  Can you help?
Other Tunes in Set:
Region: Denmark, the island of Fanø
Notes: A site visitor from Denmark contributed the sheet music above, writing, "Fanø music is very popular in Denmark, you will find most of the Sønderhonings on this web page, https://spillefolk.dk/nodesamlingen/."  Select the English flag to view the site in English if you wish.  The search function appears to be mainly by melody notes which makes sense since many Scandinavian tunes do not have titles.
skandi